CommU-N-I-T-Y Resources! Our resources page embodies our mantra for the year to encompass aspects of learning, teaching, & understanding dance. These resources are for you & your family to maintain a Strong Mind, Strong Body, & Strong Heart along with learning the importance of the history to dance! We will be updating this monthly so if you have any suggestions you think would be useful, please email info@cccodance.com and we will look into them! Thank you in advance and we hope this is helpful, educational, & inspiring to our CC & Co. Community!
---

Admin Assistant Blog
As much as it is important to provide kids a place to explore creativity, have a hobby, and make friends, it's important to provide a place for kids to learn important life skills. As the world continues to change around us, it's more important than ever that we take our role in the lives of young people seriously and we focus on how we can help them be their best selves. It is really important to us that we prepare our dancers for life outside the studio. Our dancers love the studio and feel safe in our space, so it's the perfect place for them to work on life skills, too. They get to learn and grow in a place where their interests and their need for important skills intersect. We are really proud of this program we have built that provides our dancers opportunities to utilize their skills in new ways. Our admin assistants are learning real-world job skills at CC & Co., but also getting to dive deeper into an industry, place, and culture that they already love and feel safe in. 
We are so thankful for them and the work they do! They are incredibly helpful, talented, and innovative, and we wouldn't be able to accomplish everything we do without them. We thought it would be fun to sit down with some of them to chat so you could get to know our amazing admin assistants! 
The admin assistant program was developed at the beginning of this dance year by Ms. MeLissa Nobling and is directed by Ms. MeLissa and Mrs. Janine. The purpose of the program is to allow the dancers at CC & Co. to learn about administrative work and to learn important life skills in a place they already feel comfortable and supported. There are currently 8 admin assistants in the program. 
Miss Janine noted that one of the things she has been most proud of with the students this year has been their growth in phone conversations! In today's world, basically no one wants to talk on the phone. Many people don't even feel comfortable speaking on the phone or in-person any more. She said that she has loved to see them grow in confidence in their people skills, most notably their phone skills! 
Without further ado, we would love to introduce you to some of our admin assistants: Victoria, Robyn, and Sebastian, and share with you a little bit about them and their experiences at CC & Co. 
Meet Victoria! She has been dancing at CC & Co. for the last five years and she is a freshman in high school. Before coming to CC & Co., Victoria lived in New York. She started dancing when she was 3 years old. She also enjoys archery and painting in her free time. Victoria wanted to go deeper at CC & Co. and thought that being an admin assistant would be the perfect way to do that. Before becoming an assistant she said that she would hang around the studio helping with different tasks and being of assistance where she could. Through the admin assistant program, Victoria has learned new skills such as how to act in the workplace in a professional way, how to answer the phone properly, and how to manage her time. As an admin assistant, Victoria loves to see what is going on behind the scenes with things like the Gala and noted that seeing all of the hard work that goes into the events gives her a greater appreciation for her teachers. Victoria said that she loves being part of the admin assistant team and feels like they have a family bond between them. 
We are so excited to have Victoria on our admin assistant team and so thankful for the hard work she does!!
Next up is Robyn! Robyn is in our Fusion Company and has been at CC & Co. for the last seven years. Dance is her favorite hobby and she decided that she wanted to be an admin assistant so she could learn more about what happens behind the scenes at CC & Co. Some of the tasks she does include printing the room schedule, having handouts ready, and helping with Gala costumes. Robyn mentioned that she likes being an admin assistant because you not only get to help make the studio a better place for yourself but for your classmates and other families, as well. She enjoys being part of what makes the studio run smoothly and making connections with students and families who she might not otherwise meet. Some of the most important things she has learned as admin assistant have been how to make copies and how to answer questions on the spot in a professional way. The funniest thing that has ever happened to her as an admin assistant was when someone called the studio on a Tuesday afternoon and started ordering a pizza! 
It was really cool to hear from Robyn that she is learning life skills in the admin assistant program and that she is making connections with families and students who she wouldn't have otherwise met. We are really grateful for all of that she does as part of the team! 
Finally, meet Sebastian! Sebastian has been dancing at CC & Co. since 2016 and is a junior in high school. He loves to dance, but is also really interested in acting, playing video games, and working on his car. He joined the admin assistant program because someday he would like to own a dance studio, and he knew that this would be the best way to gain the experience he needs to do that. Sebastian said that he is excited to be learning what happens behind the scenes at the studio so he can use it in his future career. Sebastian really pondered how he could sum up the admin assistant role in one word and finally landed on "riveting" as he described his day to day activities and they included things as diverse as creating Google sheets, helping guide students and parents to where they need to be, fitting students for dance shoes, changing a lightbulb, and more. In addition to the variety of tasks Sebastian is responsible for in his role, he said that he has learned time management, how to delegate and facilitate, how to communicate professionally, and proper phone etiquette. The thing that stood out the most in our interview with Sebastian was that he said this was a safe place to learn. He explained that it's okay to make mistakes and to learn from them, and in his words, "You don't feel like the worst person in the world in this job if you make a mistake," which is really the thing we strive for the most in our admin assistant program, with our staff, and with our students. This is a safe place. You can learn and grow and sometimes you are going to fail, and that's okay. 
We are really proud of the work Sebastian has done on our admin assistant team and excited about his future as a dance studio owner. It is awesome to be a cog in the wheel of those big dreams, and we can't wait to see what he accomplishes.
Our admin assistant program is more than just a group of students helping us get work done. The goal of the program is to build life skills in a safe place where students already feel supported and inspired. We want them to build foundational skills that they will need in their lives and future careers and we want the backbone to be something they already love…dance. We hope they know how appreciated they are at CC & Co. and just how valuable the work they do is. We know that their dedication and their desire to learn will take them far in life and we are thankful to be a part of their journeys!

Gavin Larsen
CC & Co. resident ballet teacher talks with us about dance, life, and how the life of a ballerina is embedded with lessons for everyone. 
CC & Co. strives to place an emphasis on training and bringing as many opportunities in dance to our students as we can. This includes exposing our students to some of the best dancers and choreographers in the country. Which is the best way to introduce Gavin Larsen, a resident ballet teacher at CC & Co., and a former professional ballerina of more than 18 years. When CC & Co. approached Gavin with the opportunity to spark excitement for ballet in our studio through a resident teaching position, she was excited to dive in, teach our students, and be part of our community, and of course we were thrilled to welcome her. Gavin explained that, "Opening up ballet's intricacies and unlocking the thrill of mastering its technique is a passion and joy for me, so this was a great opportunity." And knowing Gavin's background and accomplishments in dance, we knew it would be a priceless opportunity for our dancers to learn and grow.
Gavin has basically always been a dancer, since she was young. Her childhood is marked with memories of dancing around the house, dancing in public, dancing wherever she heard music. Fascinated by ballet and the ballet dancers she saw in photographs and on TV, Gavin began taking more serious ballet classes at the age of 8 in a neighborhood dance school in New York City. When she was 11, she began training at the School of American Ballet and danced there until she graduated from high school and became a professional dancer.
When Gavin was 11, she performed in The Nutcracker for the New York City Ballet, and throughout her pre-teen years, she earned the opportunity to perform in other ballets such as Coppelia, A Midsummer Night's Dream, and others. 
Being surrounded by like-minded individuals and teachers who were passionate and inspiring prompted Gavin to continue on her trajectory towards life as a professional ballerina. Throughout her dance training at the School of American Ballet, Gavin notes that she was surrounded by other dancers who wanted to make dance their career. She cites influential teachers, particularly, Susan Pilarre, who she says, "really formed [her] as a dancer and remains to this day an inspiration and mentor [to her]."
Gavin essentially dedicated her entire youth to ballet and her training. She attended a special high school for students for whom regular school was difficult due to sports or arts training. At this high school, she was able to schedule her academics around her ballet training, giving her the ability to continue to pursue her dreams. She would go to school early in the morning for an academic class, go to the ballet school for a technique class right after, then go back to school for another class, and so on. It took a lot of dedication and time to be able to balance the two simultaneously. This experience, balancing both academics and ballet training, set Gavin up for a rigorous adult life that required her to be able to multitask, prioritize, manage schedules, and work diligently. 
When Gavin was 17 she auditioned for the Pacific Northwest Ballet. She knew loved the company and would fit in well, as she had been part of their summer programs for three years prior to this. The directors had encouraged Gavin to audition when she graduated and they eventually accepted her into the Corps de Ballet. At this point she moved to Seattle and began her life as a professional dancer. 
She danced for Pacific Northwest Ballet for seven years before exploring other companies such as Alberta Ballet in Calgary, Canada, the Suzanne Farrell Ballet, and the Oregon Ballet Theatre. Although Gavin loved her time at Pacific Northwest Ballet, she was ambitious and driven and wanted to be able to work under different choreographers and directors, explore new opportunities, and see new places. Amongst the amazing experiences, were of course, some difficult experiences, but also opportunities to meet new people, travel the world, find community amongst other professional dancers, and grow as a person and dancer. 
In 2010, Gavin made the decision to officially retire from professional dancing. After her retirement, she did continue dancing for a few more years, but also started teaching dance and writing for various dance publications such as Pointe, Dance Teacher, and Dance Spirit. 
Dance hasn't just been a job to Gavin, it has been a way of life, and through her experiences, she eventually developed and wrote a book Being a Ballerina: The Power and Perfection of a Dancing Life. Gavin's explanation of the development of her book can basically only be described using her own, eloquent words. Gavin explained:Not long after I retired, I was struck by the tragic effervescence of dance. My life, my career, my definition up until that point, was basically evaporating into thin air now that my performances were only alive in my memory, some videos and photos. I wanted a concrete way to capture it, so I began writing down memories: episodes, conversations, reflections, anecdotes, musings about my life in dance. As I amassed a bunch of these short, essay-like pieces of writing, it occurred to me that I was creating a sort of patchwork quilt about anyone's ballet life: the experiences I'd had were simply an expression of everyone's dance journey. So I started thinking about how to string these short pieces together, to flesh them out and augment them, to make a book-length work that would not really be MY memoir, but that of all dancers. 
Although the book might be most well-received by people who have experienced a life in dance, Gavin wrote the book for both dancers and non-dancers. Through her writing, she hopes that dancers will find themselves in the story. She hopes they will feel the universal bond that connects all dancers and see their own journey through the telling of hers. For those who aren't dancers, Gavin hopes to dispel the misconceptions about the dancers, but more importantly, she hopes that non-dancers will "look inward and consider how anyone could live their life with a dancer's approach." She explains that her book is about ballet, but it is also about the universal threads that connect all humans. 
Through dance, Gavin has learned about life, expression, perseverance, emotion, intellect and the human spirit. She says that the most important thing dance has taught her is that, "using one's body as an expressive tool is the most fulfilling way to live. Our physical selves are so magnificent and so endlessly powerful. To combine the depth of our bodies' potential with our emotions, intellect, and spirit is, I think, the highest expression of being alive."
We are so privileged to have a teacher and professional like Gavin teaching our students at CC & Co. Her knowledge and expertise in ballet is unmatched. Gavin said that she recognizes a hunger to learn and grow in our students, and that she has loved getting to know them and watching them progress each time she visits. 
We finished up our time with Gavin by asking her to tell us the most important piece of advice she'd like to give the CC & Co. dancers. She said that she would advise them to keep an open mind about styles because being a dancer means being a dancer who is well-rounded. Train with versatility so you can explore all forms of dance. And keep dancing. No matter what you end up doing with your life professionally, keep dancing in your life forever.
---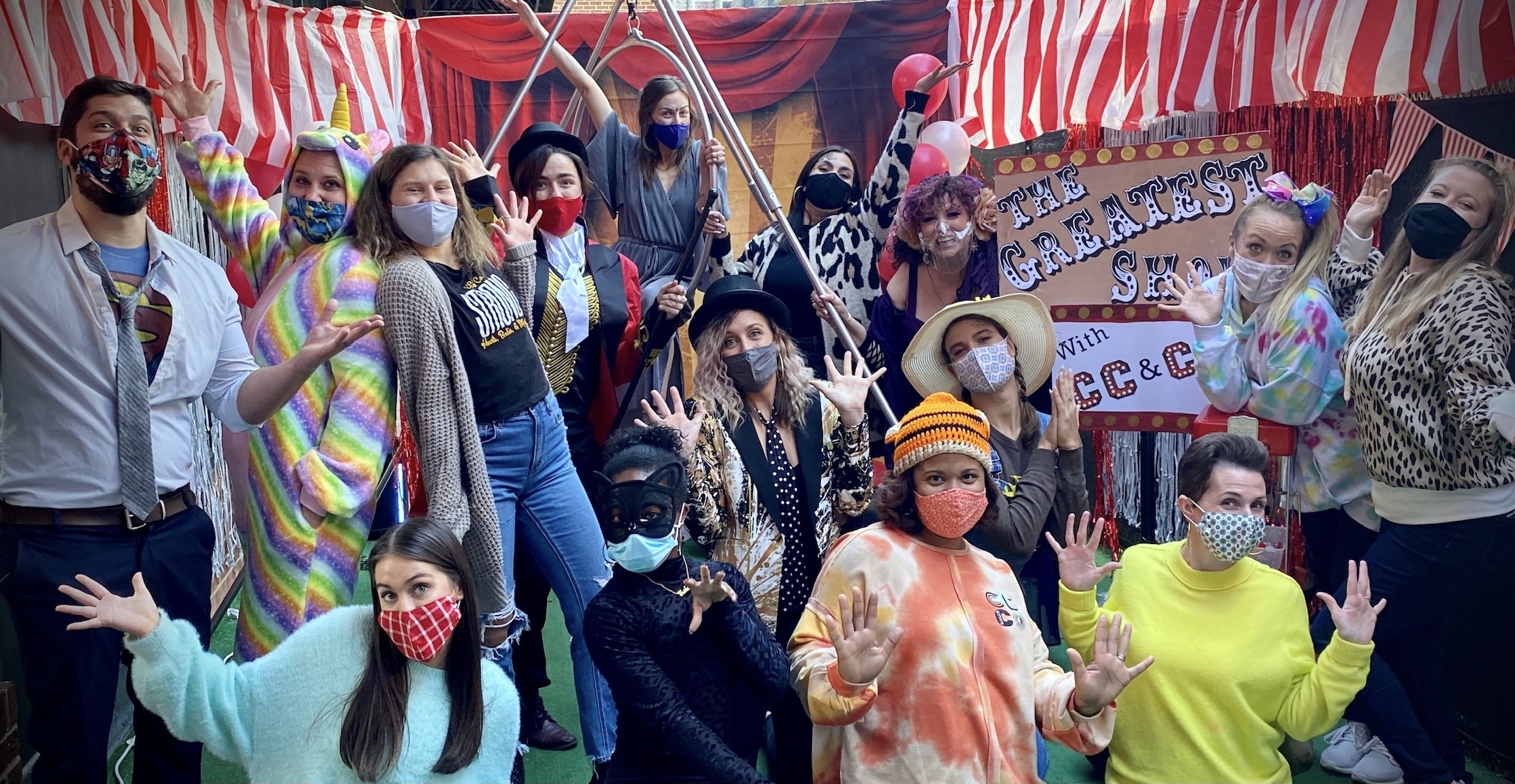 CC & Co. Blog: Day in the Life of a Dance Teacher
The dance teachers at CC & Co. are admired by their students for being fun, full of energy, enthusiastic, and talented. They are always ready to tap and twirl and spot tricks when it's time for class to start. But…you might think that your dance teacher just shows up, turns on some music, and starts class. At CC & Co. that is definitely not the case. Our dance teachers wear so many different hats that help make CC & Co. what it is. Behind the scenes, the dance teachers all have different roles that make it possible for our students to be part of a magnificent Gala, take part in events like Bring a Friend Week and Spring Fling, experience classes with guest artists, travel to competitions and conventions, and more. Our dance teachers are constantly innovating our programs and curriculum to give our current students the best experience possible and to keep opening new doors of possibility for students who will join us in the future. 
We thought it would be fun to take a closer look at a day in the life of one of our dance teachers, who wears many hats and wears them all well, Miss Lauren. Miss Lauren hits the ground running every single day (after she's had her coffee of course!) so she can be part of the magic that happens behind the scenes at CC & Co. Here is what a typical day might look like: 
8:00 AM : Coffee!
8:30 AM: Create lesson plans for class
9:00 AM: Social Media Content Creation - Instagram videos, Facebook posts, TikToks and more! Our social media is always buzzing because we love sharing how amazing CC & Co. is with our followers!
10:00 AM: Work on studio email communications
11:30 AM: Administration team meeting- we are working on plans for the Fall Festival, Christmas Parade, and MORE!
1:00 PM: Lunch & Workout! 
2:30 PM: Arrive at the Studio, collaborate in staff lounge
3:30-6:00 PM: Teach Classes! (This was a light day… Some days we stay for classes until 9:30 PM!)
6:30 PM: Run errands (The new Target next to the studio is AMAZING!)
7:30 PM: Dinner Time!
10:00 PM: BED!
As you can see, our dancer teachers' days are jam packed with so many different things to help make CC & Co. the fantastic place it is. Our teachers don't do these things because they have to, but because they love CC & Co. and they believe in the mission. They want to see dancers find community, strengthen their minds and bodies, learn new things, and have fun. Through all of the work they do in and out of the classroom, all of these things are possible. 
Who is your favorite CC & Co. teacher? Next time you see them, give them a high five or a hug and tell them how much you appreciate them!
---

CC & Co. BLOG: Dance for the Health of It
Check out our VLOG! https://youtu.be/1PI22DkfS6g
It is said that approximately 1 in 4 people struggles with mental health right now. Pre-pandemic, our society's collective mental health was already in crisis, but in our current pandemic-affected world, mental health issues are on the rise. It is more important than ever that we focus on taking care of our mental health and doing things that bring us joy, provide endorphins, and give us a sense of peace. 
Dance has been used as a form of healing and therapy for thousands of years, and today movement of all kinds is researched as a way to lessen the effects of mental illness. Dance and movement are also studied as ways to stabilize mental health in healthy people, essentially as a preventative care. 
Dance can be physically and mentally therapeutic in a number of ways. It provides a sense of community and belonging that comes with being part of a group or class. The movement itself causes a release of endorphins. Dance provides the ability to escape the worry and stress of the day. Taking care of your physical health through movement is always going to improve your mental health. When dancing or engaging in movement, people experience a release of physical and emotional tension in the body, and dance encourages a total body and self awareness that can help people to regulate their breathing and nervous system and be present in the moment. 
At CC & Co. we try to provide students with a sense of community and belonging no matter what level of dance they are in. From our preschool classes to our most rigorous competitive groups, we want our dancers to know that they are part of something, and that they matter. Our teachers truly love their students and are dedicated to creating a nurturing atmosphere in the studio so that the students have a sense of belonging. In a world of disconnection, exacerbated by the pandemic, we need connection more than ever, and students can find it within our walls. Even our adult classes are a place where dancers can come to be with others, be part of something, and feel like they belong. 
If you are taking good care of your physical body, your mental health is going to improve, and when we teach our students, we keep this in mind. Movement at the physical level is so important for our bodies, and when our bodies feel good, we are better equipped to take care of our minds. One of our dance teachers explained that, "physical health contributes a lot to mental health. Keeping my body moving always puts me in a better head space." We take this approach with our own children at home. When they have a bad day, we encourage them to go outside and play, to take a bike ride. We push them on a swing, take them swimming, or go for a walk. Dance can work in the same way (and you can try it at home, too!) It is fun, it is movement, it improves your physical health, and your mental health will follow suit.
It is a pretty well-known fact that movement causes a release of endorphins in the body, and dance is no exception. When we talked with some of our dancers and staff about the impact of dance on their mental health, many of them cited an increased joy or happiness when they started dancing and a significant change in their mood from the beginning of the class to the end. One of our staff members had this to say: 
"I can remember walking into class after just having a fight with my boyfriend, friend, family member, you name it, and all of that went away for the time I was dancing!  I know it is the dopamine or the endorphins you get through movement but by the time class is over, I have a better perspective, mood, and appreciation for the challenges I just faced.
Sometimes getting started is the hardest part. When we are having those bad days where it would be easy to be alone, to sit and do nothing, if we can get our bodies moving, there is an actual chemical reaction that occurs in the body. Our bodies want us to feel better. They want to take our movement and turn it into joy, we just have to get the process started. 
We encourage you to get moving, even if you are already feeling good. Use movement as preventative care. And if you are already struggling, use movement to help you find balance and restore your mental health. Turn the music up in the living room at home and dance, and feel the tension leaving your body. Bring your student to class at CC & Co. to feel connection and dance away the worry of the day. The best part about movement is that you can do it anywhere and in so many ways. Of course, our favorite way to move is to dance. 
---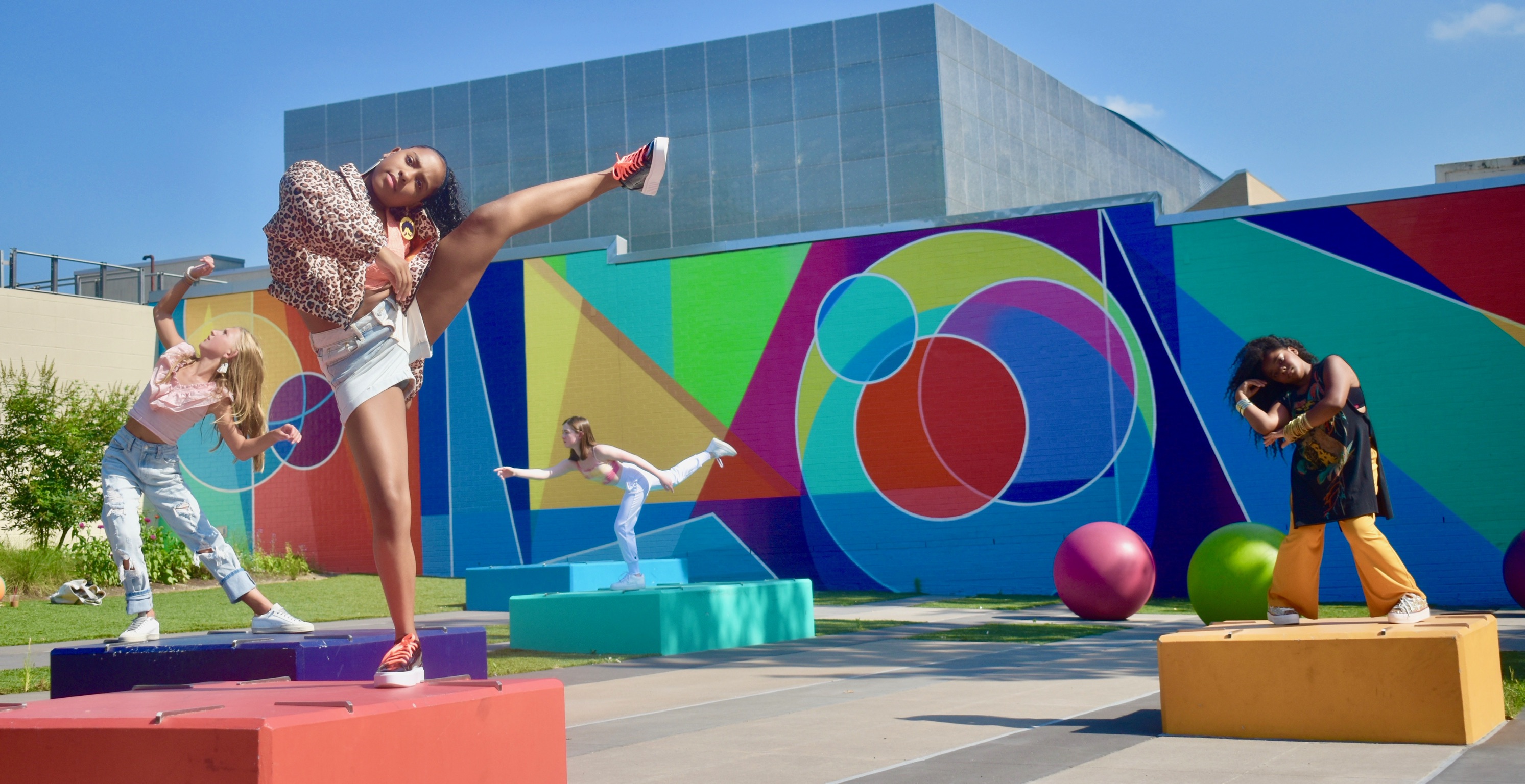 CC & Co. BLOG: Dance is for EveryBODY
Check out our VLOG! https://www.youtube.com/watch?v=peV1EsWnWwA
When you think of dance, you might picture an agile and graceful ballerina, floating across the stage with perfect movements. You might think of a tiny preschool dancer, with miniature ballet shoes, waiting anxiously for the first dance class to begin. 
Something we don't often think about is that dance is for everybody - every person and literally, every BODY. There isn't a body shape or type, an age, ethnicity, or gender that makes a person able to dance or not. If you are willing to try it, dance is willing to welcome you, without discrimination. If you dance, you are a dancer. There are no other requirements. You don't have to be skilled, you don't have to look a certain way or think a certain way. 
We see these very things at play in our studio on a daily basis, as people from all backgrounds, of all ages, with all different body types walk through our doors and join our classes. We experience this in our classrooms as we see adults who had put dance on the back-burner are inspired, reinvigorating a passion they had put to sleep. We witness this when a middle school student who has been curious about dance for years decides to join us at Bring A Friend Week. We see this when a student who has struggled to find his place elsewhere falls in love with the excitement, the music, and the atmosphere in our studio. We see this in the bright eyes of our preschool students who walk in as little children and walk out as dancers. 
Moving our bodies in celebration, to express our feelings, or to create art is universal throughout the human race. Even if we don't speak the same language, dance is something that can unite us, something that can bring us together without ever having to speak a word. Many cultures use dance to tell stories, uniting people who might not otherwise be able to communicate. Dance can break barriers, foster unity, inspire people, and provide an outlet for expression. 
When you dance, you can truly come as you are. You might not have anything in common with the others in the room, but you will be instantly united by the art of dance. You might not feel as though you are a dancer, but if you are willing to move, to be inspired, and to try, that is all you need to do. 
When we say that we welcome everyone to be a dancer, we truly mean it. We truly strive to provide classes to meet the needs of every person who wants to join us, from our preschool classes, to our middle school and teen classes, to our adult classes. We never want anyone to feel as though they can not be a dancer. 
"Dance for yourself. If someone understands, good. If not, no matter." — Louis Horst
---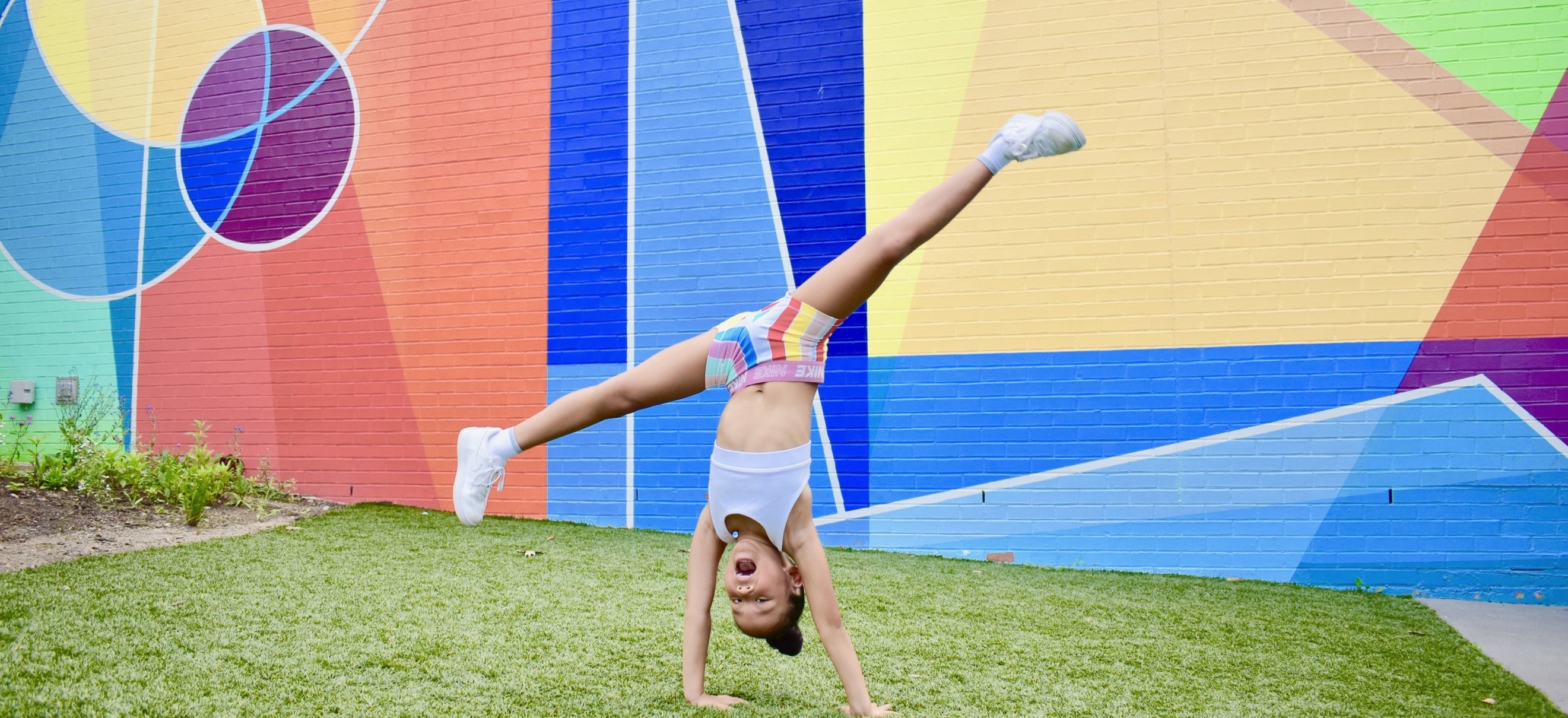 CC & Co. BLOG: If You Let Me Dance (Week 3)
A flower does not think about competing with the flower next to it, it just blooms. 
Our world has become a place of endless comparison as we scroll through the highlight reels of other people's lives on Instagram and Facebook and other social media. Today's youth are bombarded with only the best portions of everyone else's lives, and it can leave them wondering how or if they measure up. 
It is more important than ever before to instill confidence in our kids. They need to know that they are capable. They also need to understand that what you don't see when you're looking at the highlight reel is the dedication, hard work, failure, and practice that it took to get there. 
Dance not only instills confidence in our students, but it teaches them that confidence comes from time spent working hard and being dedicated to a task. Dancers don't just end up on a professional stage someday. They don't just make the high school dance team because they thought about how fun it would be. They arrive at these places that become the "highlight reel" through dedication and hard work and building confidence every day in the classroom.
In dance class, teachers equip students with the tools to build confidence. They teach them how to set an attainable goal, how to determine the steps to achieve the goal, and how to measure their progress. Confidence is not necessarily a personality trait so much as it is a learned skill. When we know what to expect, and we know how to get where we want to go, we have the ability to feel confident…and this is what dance provides. 
Our CC & Co. dancers step on stage in front of a crowd at least once a year, if not more than once a year. Arguably just as important as remembering choreography, is feeling confident and able to perform. This skill translates to so many other important areas of life. Students who gain confidence through dance, often exude confidence in other areas of their lives such as in school, public speaking, their jobs, and their relationships. 
It is our hope that through teaching our dancers in the studio, we are instilling in them confidence that will lead them through their lives in every other area. We want our students to feel confident so that they aren't worried about comparison, so that they feel capable, so that they set goals that will get them where they want to be, and they will know the steps they have to take to get there. Instead of being lost in the highlight reel of other people's lives, dance teaches students to keep their eyes forward, focused on the creation of their own beautiful highlight reel, able to recognize the beauty in others, but confident that theirs is just as amazing and unique. 
---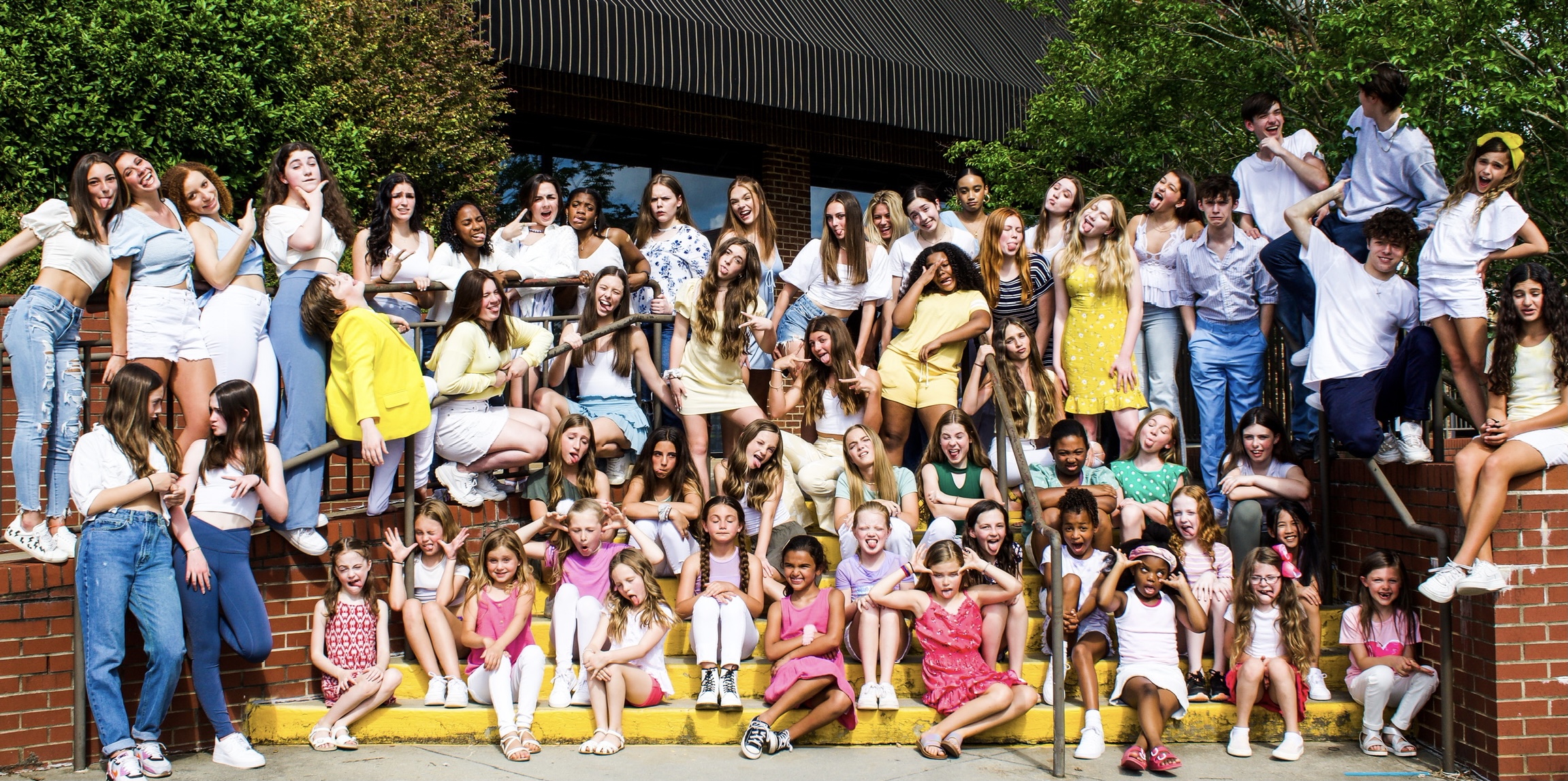 CC & Co. BLOG: If You Let Me Dance (Week 2)
If you let me dance…I will never do life alone. 
Although the synchronicity of dance reminds us that it is a team effort, we don't often think about dance as a team or group activity when we sign our kids up for it. We are more focused on what our student will gain as an individual, and less in tune with the community aspect of dance. 
In dance, students realize that they are not doing life alone. They were wired for community, for friendship, and for teamwork. This goes beyond the walls of the studio. The friends students make in dance are often their friends outside of dance. They are the people who come to watch them participate in other activities at school, and the friends who are there to support them when life is difficult. Some of our more serious dancers at CC & Co., spend more time with their dance friends and teammates than they do at home with their families during the week. They celebrate with each other, they cry with each other, and they grow with each other.
The mission of CC & Co. isn't just to train kids to be good dancers, it is to provide a positive place for kids to go where they are loved and supported, where they have a community of like-minded people alongside them, where they can learn to take constructive criticism and use it to grow, and so much more. 
When a dancer joins CC & Co. as a toddler or preschooler, this might be the first time they are able to connect with peers their own age. They are learning how to wait their turn, how to treat friends, how to respect the teacher, and how to function in a classroom. These skills are integral as they grow and prepare to begin their journey in school and other activities. They are learning from a young age the benefits of being part of a community and how to do their part so it runs smoothly. 
As dancers grow up at CC & Co., having people in their corner that they can not only dance with but just live life with, is so important. Dancers not only function as part of the community, they get to see adults around them modeling friendship and teamwork and generosity, too. They learn how to ask for help when they need it, they see the benefits of community in action, and they learn to be a supportive friend in others' times of need. If you are a dance parent, you know that the dressing room is often a place where community is really evident. What an opportunity we have in those moments to show our dancers how to work as a team, how to look for people who need our help, and how to be generous with our time and talents.
By being part of the dance community, we have an opportunity as parents to get our kids involved in a community, to model for them how to do life with others, and so much more. We were never created to be solitary. We need community. What better way to find community than within something our kids already love to do.
---
CC & Co. BLOG: If You Let Me Dance (Week 1)
"We don't teach kids to make great dancers, we teach dance to make great kids." - Misty Lown
Although CC & Co. is new to the More Than Just Great Dancing™ community led by visionary Misty Lown, we have always kept this philosophy - that we aren't teaching kids to make great dancers, we are teaching dance so we can make great kids. 
There are so many valuable life lessons wrapped up in the experience of dance, that it is almost impossible to scratch the surface. We are so excited, though, to start sharing the value of dance, what is going on behind the scenes at CC & Co., and more, through this brand new blog. 
- - - - - - - - - - - - - - - -
If you let me dance…I will find community.
As we approach our new 2021-2022 dance year, we want to focus on coming back together, in community, with joy. We can't wait to feel the joy of community not just in our studio, but in schools, in family gatherings, in birthday parties, in afternoon lunches with friends, at beaches and parks, and on vacations. 
Throughout the last year, our students and team members have persevered through virtual classes, and they haven't just survived, they have thrived. Our students have danced in their backyards and their living rooms. They have learned new skills and shared their successes with their classmates on their computer screens and TVs. They have gathered again in our studio, cautiously, following new rules, with extra attention to the safety of others. They have stepped back on stage, overcome with joy to be able to dance for an audience again. They have prepared for the Gala with more excitement than ever before and a new appreciation for the joy that comes with dancing with your friends beside you. 
Although we look at community in an entirely new way now having been without it for a year, dance has always been a place where young people can find a community. Even during the height of the pandemic, when physical community was sparse, we gathered virtually, we gathered in parking lots, we distanced and wore masks so that we could continue to be a community in whatever ways we were able. Preschool-aged dancers who are new to taking class and new to spending time away from their caregivers find community in their teacher and in their dance friends. Grade school students make dance friends who become their teammates, who oftentimes become their friends for life. Teens, who need community more than ever, find friends they can trust and count on within the dance classroom. They also find trusted mentors and role models in their teachers—adults who can play a positive role in their lives, who parents can trust to lead their teen in the right direction. 
Community happens amongst the dance parents who chat in the lobby while their students are in class and the company parents who sit alongside each other and cheer for their dancers at competition. 
When we think about activities for our children, we often think about them at face-value, which makes sense. How much is this activity going to cost? What is the time commitment? We think about if our child will get some exercise or have some fun. But we don't often think deeper about it. We don't realize that giving our children the opportunity to dance, gives them so much more than dance. 
We love our CC & Co. community, and we are so thankful to be gathering again with joy. We are grateful for all of the people who have been part of the CC & Co. community as students, parents, teachers, and staff throughout the years. And we are always excited to meet and grow alongside new members of our community every year.
Stay tuned for more from the CC & Co. blog each week! We plan to dive into the value of dance, the dancer's journey at our studio, and more!
---
Black History Month
During the month of February, Black History Month, the teachers and staff of CC&Co took the opportunity to inspire and educate our dancers on the history, importance and prevalence of many famous and prominent African American dancers. In every genre, we educated them about dancers such as Alvin Ailey, Raven Wilkinson, Bill "Bojangles" Robinson and James Brown…just to name a few!!! We encourage you to ask your dancers about who they learned about and what they took away from this important piece of knowledge as a dancer. The dance industry would not be what it is today without the influence and integral contributions of so many important African Americans. It is our priority as dance educators, to continue teaching them about these instrumental artists, not only during the month of February, but throughout the year!
CLICK ON A GENRE BELOW & SEE WHAT WAS DISCUSSED & WATCHED:
CC & Co Implementations
CC's Dance Shop

Offers a variety of new colors in tights, ballet shoes, and jazz shoes for our dancers of color.
CC & Co. Masks

CC & Co. Dance & Acro Instructors participated in the Liberate the Artist "Forward Movement" training program and obtained an Inclusionary Certificate. Classes consisted of:

Culture In The Classroom
Language For Every Dancer
Incorporating Inclusive Stories
Embracing the Pivot
Accessibility for All Abilities
Today in Dance & Health
Dance For All
Dance History
It is so important to be aware of the historical figures that paved the way for us to be dancing today. The sacrifices they made and the stories they have to tell about their experiences. Dance history is such a vital part of a Dancers journey. Looking Into the past can give us perspective and inspiration. And a great appreciation for the incredible pioneers of the art forms that we love! Their personal stories are forever a part of the movement they created.
Every Dancer should have a deep understanding of where their art form came from, just as we study the lives of historical figures in school.
Jazz

Tap

Ballet

Contemporary

Hip Hop

Acrobatics
Resources
Strong MINDS
Strong HEARTS
Strong BODIES